>> Friday, August 23, 2013
Once upon a time, way back in the 1920s, hemlines rose to staggering heights. Everyday women were showing those sexy lower calves, and by the mid twenties, more daring women were going for the knee. Don't get overly excited, now. There weren't bare legs Charleston-ing around town. Ladies always had their stockings, normally made of plain colored knit silk acting as a barrier of decency.
In 1940, nylon was introduced as a new, less expensive, more durable silk substitute, and nylon stockings or "nylons" became highly coveted. Unfortunately, come 1941, WWII broke out, and both silk and nylon were needed for military items like parachutes. Clothing became rationed, and women were no longer able to buy a new pair every week as they previously had. Because of this, many saved their sheers for special summer occasions. Some even donated theirs to the war effort.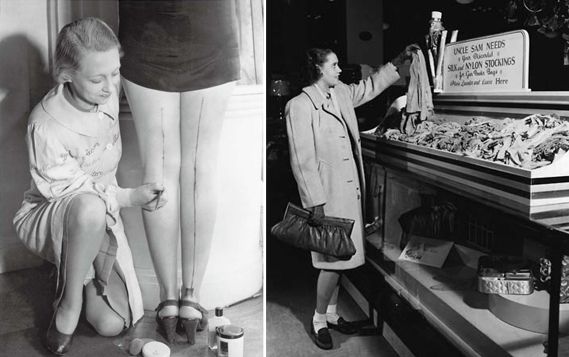 This left many ladies bare legged in the warmer months. You would think that naked gams would become stylish, but no. Being stylish, or really doing much of anything as a female can never be easy. Instead, a new trend took hold. Women started painting their legs to obtain the appearance of wearing nylons. This wasn't an easy task. Back then, stockings had seams running up the back which meant women had to attempt to draw symmetrical straight lines up the backs of their legs. This typically required a friend and an eyebrow pencil, although cosmetics companies began putting out contraptions to help with solo seam application.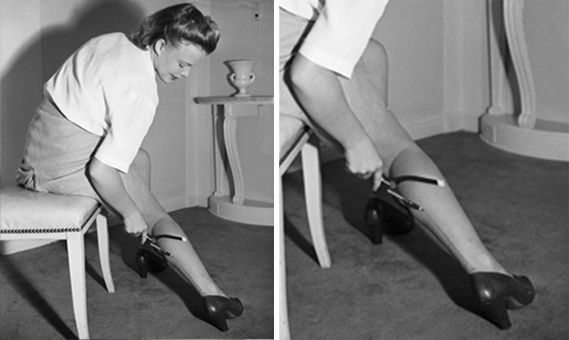 For more well off women, there were leg makeup bars where, much like pedicure places today, ladies would sit in chairs, and have professionals hand paint the bottom three quarters of their legs a nice tawny brown followed by application of the seams and thigh trim.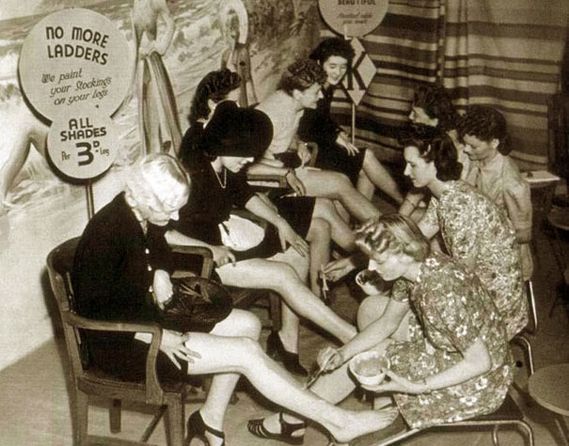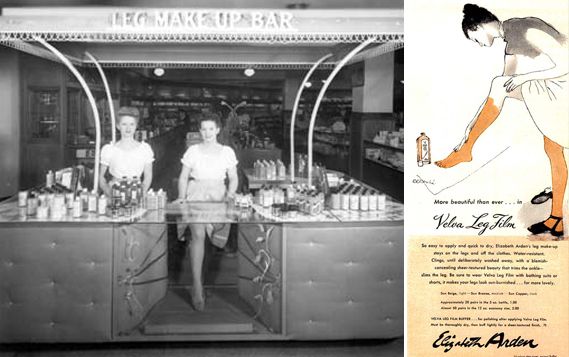 This was all well and good... actually, no. Let me rephrase that. This was all batshit insane, but it worked in tricking passersby into thinking ladies were wearing nylons, that is, until it rained or until a woman would start to sweat. Leg paint wasn't permanent, after all. There were even jokes about it's transferability, my favorite of which goes:
What's worse than finding lipstick on your man's collar?
Finding leg paint on his back. (Burn!)
Luckily, after the war ended, this whole invisible stocking phenomena fell by the wayside. Liquid nylons, or my favorite moniker "phantom hose" became a thing of the past. Of course, I have to think it never
really
left as there is a bottle of
L'Oreal Sublime Bronze ProPerfect Salon Airbrush Self-Tanning Mist sitting in my bathroom as I type this which just goes to show that we are just as crazy as they were, and we don't even have a war to blame.