>> Thursday, November 10, 2011


I'm so happy that you guys are having a good time reading this little series! I've been having just as much fun writing it. Just the thought of thrifting makes my heart do a little dance. Is that weird? I think it's just the idea that there's something amazing out there waiting to be rescued from it's hiding spot, and given a new life that makes me so excited. Maybe I'm being a little dramatic, but that's kind of how I view vintage clothing in general. Finding things, and giving them a second (or third or fourth) life is exhilarating to me. Show me an estate sale sign, and I'll show you my Christmas morning face. This week's tip has to do with taking a breath, and overcoming that holy-crap-this-place-is-full-of-stuff feeling. Are you ready?


SHOP SMART.
So you found a store, you're wearing your best rummaging uniform, you have all your supplies, and now… you're totally overwhelmed. Don't fret! I like to shop in sections starting with my highest priorities. For me, that's always the shoe section. Because I have gigantic Sasquatch feet, any shoes that are cute and fit me will cause squeals of excitement, and make everything else I find emit a sunshine-y glow of awesomeness. If you really want a cool trench or could use a new skirt, head to that section, and dig in!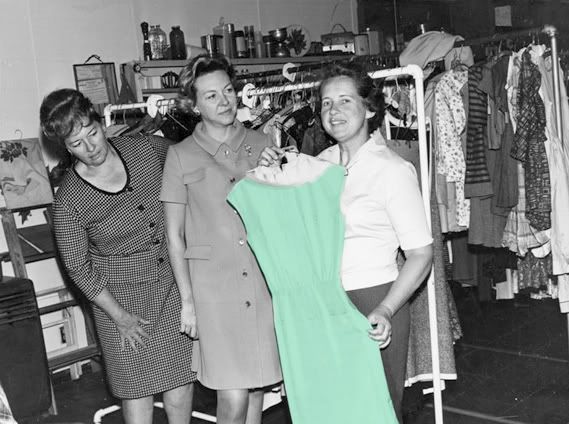 This happy lady is obviously in on how to thrift! Don't wind up like those jealous biotches to her left!
Image Source: Los Angeles Public Library