>> Wednesday, September 7, 2011


Let me start this off by saying that I hate cooking. It would almost be pathetic if I hadn't grown so accepting of the fact. Seriously, leave me to my own devices, and I'll eat a bowl of popcorn for dinner seven days straight before I even touch a stove. For some reason, though, cupcakes are different. I. Love. Cupcakes. They are just about the cheeriest. most adorable food I can think of... so cute that even I, the Kitchen Grinch, will notice my heart growing three times its size at the sight. It is for this reason that I'm trumping the general vintage theme of this blog to bring you the most amazing, clever little cupcakes I've ever made. I hope you like peanut butter...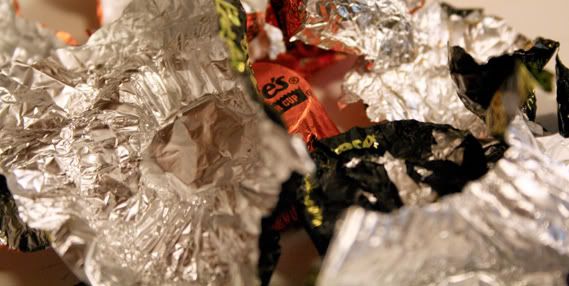 The best part about these is that they involve a lot of those ultra yummy mini Reese's peanut butter cups. Before you even start, get a bag from the candy isle in the grocery store, take them home, and throw them in the freezer. You won't want them to be melty when you bring them back out later.

First, mix up some chocolate cake batter. You can make it yourself, or you can buy the box kind and lie about it. I won't tell. The first time I made these, I used a dark chocolate batter, but I've found that a milk chocolate batter tastes best. Once you have your batter mixed up, you should probably test some to make sure it's not poisonous. If you have to test it a couple times, that's fine. Better safe than sorry.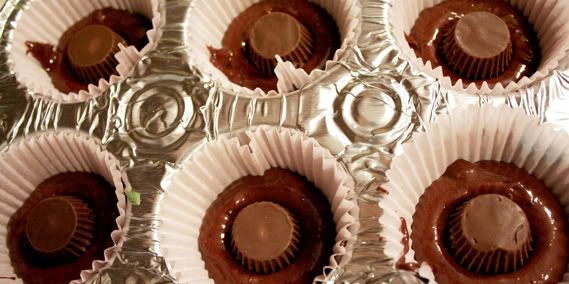 Next, you're going to line a cupcake tray with cupcake papers, and fill them about 1/4 of the way up. Now, place one peanut butter cup upside down in each well of batter. Genius, right? My mom came up with that.

Fill the papers with your remaining batter until they're about 3/4 full, and throw them into the oven at 350 degrees. I bake mine for about 18 minutes, give or take. At this point, you can stick your remaining peanut butter cups in the freezer.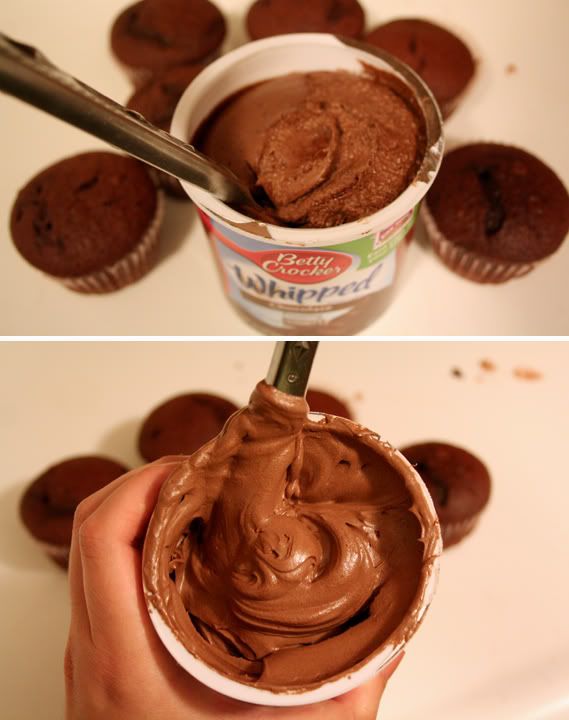 Once your cupcakes have cooled off, it's time for the icing! Now, don't just go slopping it on! There's a little trick here. Stir it with a knife for about 15 seconds until it looks nice and fluffy. This will maximize it's cuteness outside of the container.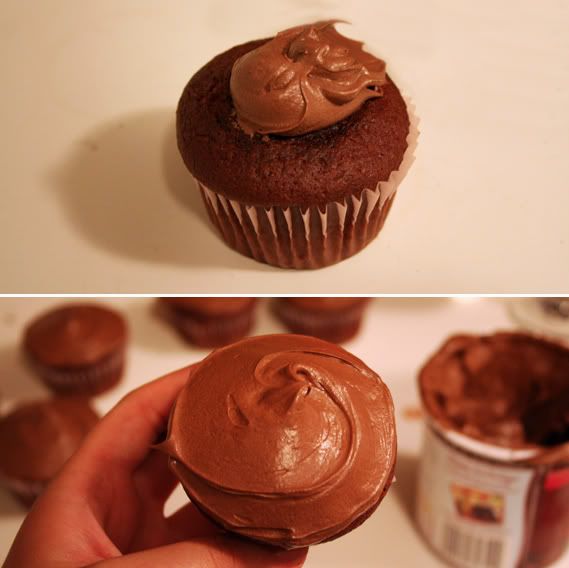 Now, just scoop some onto a cooled cupcake, hold the knife down about a half inch from the top, and turn the cupcake in a circle under the knife. This should make a nice little swirl.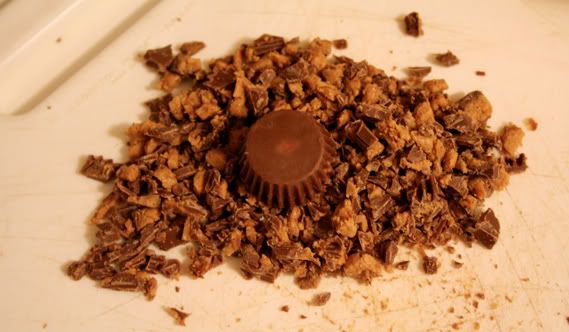 Next, you can remove the rest of your peanut butter cups, place them on a cutting board, and dice them as best you can without losing a finger. Now, just sprinkle your shavings... err... small chunks onto your iced cupcakes for a delicious topping!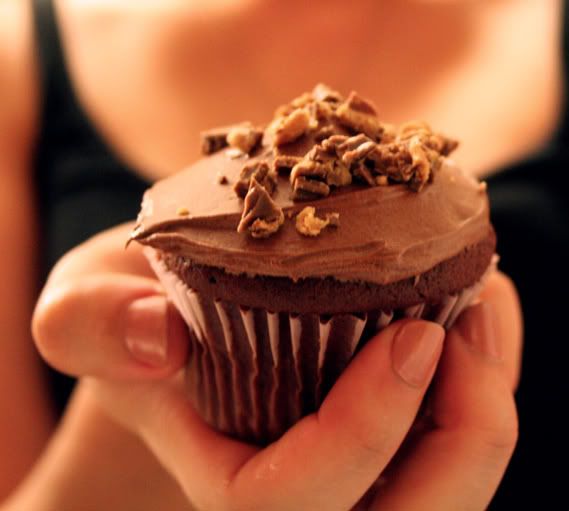 There you have it, folks! Make these before seeing any large group of people, and you'll be the belle of the ball!