>> Thursday, June 16, 2011
Confession: I have a hard time not talking during movies... about clothes. Honestly, I have a hard time keeping my mouth shut in general, and I really do try not to be one of those people who whispers things in the movie theater. Really, I do. Somehow I manage to keep all of my opinions crammed down inside until, out of nowhere, I just have to blurt out to whoever is near me, "I need that (insert random article of clothing/pair of shoes here)."

It happened just yesterday while I was hanging out with one of my most awesome gal pals, Aya of Strawberry Koi. We were lounging about, eating pie, and talking about blog stuff. We had All About Eve playing in the background. I was bouncing her adorable son on my knee, and then, out of the corner of my eye, this happened: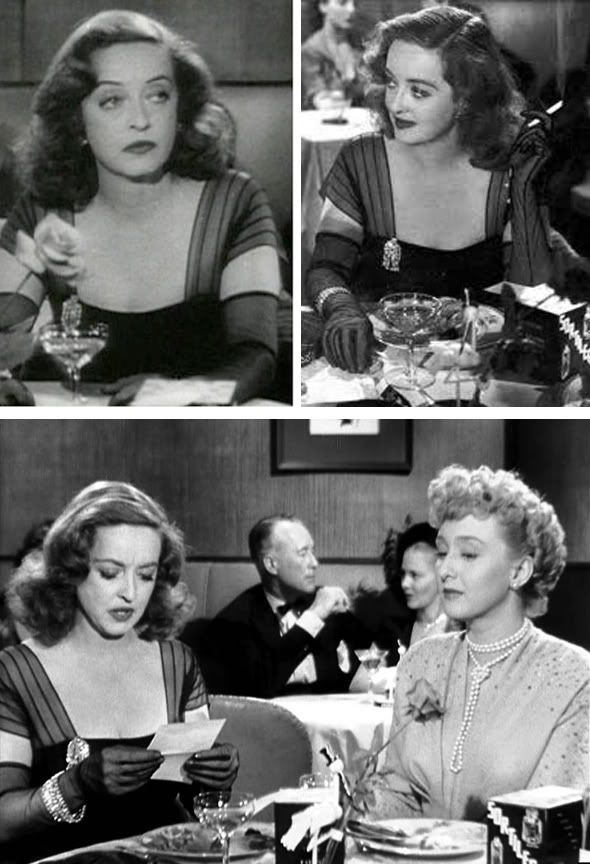 I've seen this movie so many times, and yet, I'd somehow missed this. I'm pretty sure I interrupted her just to blurt out something along the lines of, "Oh my god! That dress! I need it! And the gllllovvvvvessss..." The flow of our conversation was further broken by the sighing and cooing that followed. Honestly, though, the dress. The dress. I would wrestle a young Bette Davis myself for that dress... and she looks tough. Those transparent sleeves... and the seamed opera gloves... ugh. I'm dying.